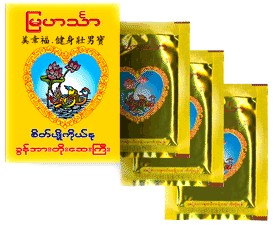 MYA HIN THAR MUSCLE STRONG MEDICINE
• Mya Hin Thar muscle strong medicine as been prepared sceintifically with indegenous
medicinal properties. If you everybody use it,have a family happiness, can born children,
muscle will strong, always fill up lose of the strength, especial for sport man use it more
endurance, old man and loss of strength man use it immediately refresh muscle strength.

INGREDIENTS

• Expert for man- One pack one time.• Oneday two times,morning & night
• If you need afternoon can add one time you can mix drink milk, water,soft drink.
soft drink......etc.
• both old and youth man everyday use.Old man mix honey use too effect.
• As no harmful chemicals products have been compounded it.