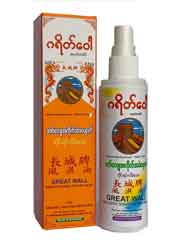 GREAT WALL MEDICATED SPRAY FOR PAIN RELIEF
This medicated spray relieves various ailments such as: paralysis, external and internal strains. lumbago,gout rheumatism, cramps, aching neck, Neuritis and all kinds of pains, headaches. Apply it directly on the spot and let it penetrate well.it will give you immediate relief.
INGREDIENTS

• Tan-Kway, Whan-po, Rwan-Wu bulb, Kyan-Hau long papper, Lu-kway, Cinnama
• Chuan-ku vallerian, menthol, camphor, peppernient, eucalyptus oil.